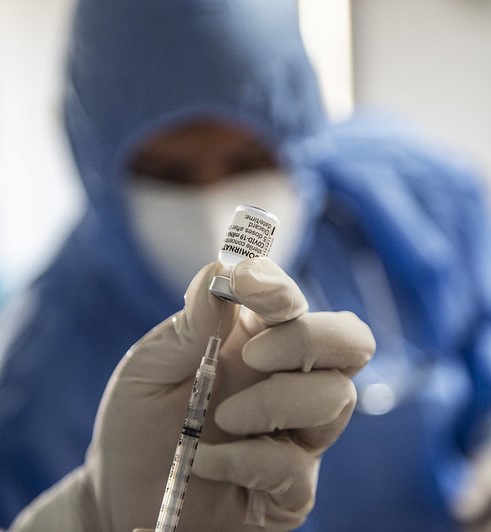 Two new studies show COVID-19 vaccines are safe in older adults and when administered simultaneously with non-COVID vaccines. Both studies are published in Vaccine.
No increase in worrisome events
The first study, which looked at self-reported safety events for those 65 and older, included 3,360,981 people who received 6,388,542 primary mRNA series doses. A subsequent study on booster doses included 6,156,100 people who received one monovalent (single-strain) booster dose.
Adjusted incidence rate ratios (IRRs) were calculated for these serious heart and circulatory conditions, among other adverse events (AEs): acute myocardial infarction (AMI), myocarditis/pericarditis (Myo/Peri), immune thrombocytopenia (ITP), and disseminated intravascular coagulation (DIC).
For the Pfizer-BioNTech primary series and booster, the AMI IRR was 1.04 (95% confidence interval [CI] 0.91 to 1.18) and 1.06 (95% CI 1.003 to 1.12), respectively. For the Moderna vaccine, the rate ratios were 1.01 (95% CI 0.82 to 1.26) for the primary series and 1.05 (95% CI 0.998 to 1.11) for the booster.
The risk for AMI was reduced to nil after adjusting for other factors.
"Of six AEs evaluated in two independent population-based studies including the U.S. elderly population, no statistically significant increase in risk was identified for ITP, DIC, and Myo/Peri following COVID-19 mRNA vaccination for primary series and monovalent boosters," the authors concluded.
Co-administration not an issue
In the second study, safety data on simultaneous vaccination (SV) with primary-series mRNA COVID-19 vaccines was evaluated, based on reports in the Vaccine Safety Datalink. The authors used surveillance data from December 11, 2020, to May 21, 2022.
During the study period SV was uncommon, used by just 0.7% of 8,455,037 people for dose one and 0.3% of 7,787,013 people for dose two.
Only 56 safety outcomes were seen in the study, and the overall rate of outcomes among COVID-19 vaccinees who received SV was not statistically significantly different than among those who did not receive SV (6.5 vs. 6.8 per 10,000 patients).