2013 study finds minimal worry over H7N9 in urban and rural China
Both urban and rural residents in China interviewed in late spring and early summer last year—after the spring peak in H7N9 cases—reported fairly high exposure to poultry but fairly low anxiety about the disease, according to a study yesterday in Emerging Infectious Diseases.
Among 2,504 urban residents from five geographically dispersed cities (see map below) who were contacted by phone, 829 (33%) said they had visited a live-bird market in the previous year. About 77% reported that they visited the markets less often after H7N9 cases were first identified, but only about 30% supported permanent closure of the markets to control the epidemic.
Of 1,227 respondents in four geographically diverse rural areas, 48% said they raised backyard poultry, most commonly chickens. Both groups reported low to moderate anxiety levels about H7N9, as measured by the State Trait Anxiety Inventory.
The surveys were conducted after H7N9 cases had already peaked in 2013: in May and June for the urban participants and in July and August for the rural ones.
The authors conclude, "If influenza A(H7N9) virus were to become more prevalent among poultry, the number of human exposures could be substantial in the absence of control measures. Our findings highlight possible problems in the structure of the live poultry trade in China."
May 28 Emerg Infect Dis study
CDC map: Red stars represent urban areas surveyed, while blue triangles designate the rural regions surveyed.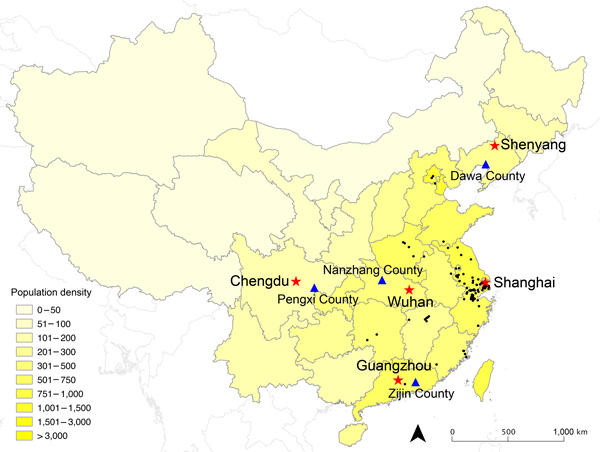 CDC notes marked increase in global polio cases
Global polio cases in 2013 almost doubled from the previous year, and 2014 is off to a faster start than last year, the US Centers for Disease Control and Prevention (CDC) said today in Morbidity and Mortality Weekly Report (MMWR).
In 2013, eight countries reported a total of 416 cases of wild poliovirus (WPV) infection, compared with 223 cases in five countries in 2012. The surge was caused by a 60% case increase in Pakistan as well as international WPV spread resulting in cases in five nations that were previously polio-free: Ethiopia, Kenya, Somalia, Syria, and Cameroon.
Those new outbreaks accounted for 62% of 2013 cases, and Pakistan accounted for an additional 22%. All 2013 cases were caused by WPV type 1, or WPV1.
In addition, as of May 20 there have been 82 WPV cases in eight countries this year, compared with 34 in three countries during the same period in 2013.
On a positive note, the CDC mentions that WPV3 has not been detected since 2012, "raising the possibility that WPV3 transmission may have been interrupted globally."
The report says renewed efforts are needed to increase vaccination in areas with new outbreaks; address health worker security in areas of armed conflict, such as Pakistan, where a number of vaccine workers have been killed by extremists; reduce spread of WPV and importation into polio-free countries; and strengthen surveillance.
May 30 MMWR report
First locally transmitted chikungunya in Guyana; Florida on alert
Two cases of chikungunya have been confirmed in Guyana, representing the first locally transmitted cases of the mosquito-borne infection in that South American country, according to an Associated Press (AP) story yesterday. The disease has been spreading widely since last December in the Caribbean, affecting more than 60,000 people so far.
The patients affected in Guyana are a 4-year-old child and a 40-year-old man, both from the eastern part of the country near the border with Suriname, said Guyana's health minister, Behri Ramsarran.
The only other mainland South American country that has reported chikungunya cases is French Guiana, which borders Suriname on the other side. French Guiana has had more than 170 reported cases, says the AP story.
Guyana's government has been spraying insecticides in hopes of controlling the mosquito population.
May 28 AP story
Meanwhile, Florida officials have reported 7 more imported chikungunya cases, bringing the total with onset in 2014 to 10, according to the state's Arbovirus Surveillance report for May 18-24.
The cases have occurred in Broward, Hillsborough, Miami-Dade, Palm Beach, and Pasco counties. Countries of origin so far are Dominica, the Dominican Republic, Haiti, and Martinique.
Although no known locally transmitted cases have occurred in Florida, the imported cases have raised concern that infected travelers coming into the state could be bitten by a mosquito, leading to transmission if that mosquito bites another person.
Florida Arbovirus Surveillance report
Chia seed products recalled for possible Salmonella contamination
Several products containing sprouted chia seed powder have been recalled voluntarily by a California company because of concerns about Salmonella contamination, says a company release distributed by the US Food and Drug Administration (FDA) yesterday.
The company involved is Navitas Naturals, and the products, all in 8-oz sizes and with best-buy dates in 2015, are Navitas Naturals Organic Sprouted Chia Powder (Apr 30 through Sep 5), Navitas Naturals Omega Blend Sprouted Smoothie Mix (Jul 29 through Sep 19), and Williams-Sonoma Omega 3 Smoothie Mixer (Sep 12 through Oct 2).
The California Department of Public Health (CDPH) said in a release yesterday that as of May 27, 12 patients had been reported to have the same rare strain of Salmonella. One has been hospitalized. Two of the patients are from Southern California.
CDPH and the FDA are working with Navitas Naturals. Consumers are urged not to eat the products and to dispose of them or return them to the store where they were purchased.
May 28 FDA press release
May 28 CDPH press release
Study finds need for lab culture for diagnosing strep throat
Ordering a lab culture in addition to a rapid test for suspected strep throat could help physicians avoid both undertreating and overtreating sore throats, because rapid tests often miss Streptococcus bacteria, according to a study in Clinical Infectious Diseases.
University of Washington researchers prospectively analyzed data on more than 25,000 Seattle-area patients 13 years old and older from 2000 through 2011 who had sore throats. They found that more than 1,000 patients with negative rapid tests had laboratory cultures positive for strep, according to a University of Washington news release.
"These cases would have been undetected if their doctors hadn't performed cultures," said senior author Ferric C. Fang, MD.
Most of these patients had moderate to severe symptoms, but 31 had serious complications such as a tonsil abscess or rheumatic fever. Most of the patients were given antibiotics. The throat cultures, Fang said, helped guide treatment decisions in half of the cases.
From their results, the researchers extrapolated that more than 250,000 US patients with strep throat annually would not receive beneficial treatment if doctors follow clinical guidelines that advise relying on a rapid test alone. The study's findings support guidelines that mandate back-up lab cultures.
The authors conclude, "Appropriate use of rapid and culture-based diagnostic tests can reduce inappropriate use of antibiotics for sore throats, while avoiding under-treatment of patients who can benefit from antibiotics."
May 27 Clin Infect Dis abstract
May 28 University of Washington news release